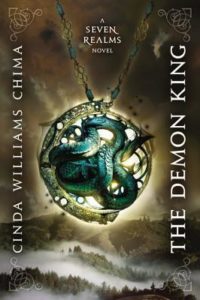 The Demon King, book one of the Seven Realms series, by Cinda Williams Chima
Published 2009 by Hyperion, 506 pages
Genre: Young adult medieval fantasy, some very secular content
This New York Times best-seller is written for the general market. It's an engrossing story.
Han is a teen who's trying to escape his past as leader of a gang of thieves. He lives in the poor quarter of the queen's city, but unlike everybody else in the quarter, he's been partly raised by a clan in the high mountains nearby. For some reason he has silver cuffs on his wrists that nobody can explain. They grow with him, and they mark him. He just wants to be left alone to eek out the meager living of delivering moonshine to local taverns from his friend up in the mountains, supporting his mother and seven-year-old sister.
Raisa, heir to the queendom, feels smothered by her mother the queen and all the expectations surrounding the fact that Raisa is coming of age. Suitors from all over the continent are sending her gifts and trying to get her attention. She just wants to put it all off as long as possible.
These two lives intersect eventually in a surprising way. I had a lot of trouble putting this book down! I highly recommend it for those willing to venture into reading for the general market. (And, since Christian publishers are having difficulty finding their fantasy readers, the general market is where fantasy written by Christians typically ends up.)
A warning, however, after having read Book 2: if you are shielding your teens from secular values, these are not the books for your family. Book 2 portrays casual unmarried sex (behind closed doors), as well as a gay relationship, both without apparent consequences.
What, precisely, are the religious elements or lack of them? There is magic, used for good purposes as well as evil. There are wizards who tend to love power more than anything else. It's a moral universe, with right and wrong easily distinguishable. There is a religion of "the maker" depicted, but it doesn't seem to have any substance to it. The characters are not embarking on a faith journey, as far as I can tell. One more thing: it's not a scary book for me the reader.
This series has a lot of books in it, and I'm planning to check more of these books out of the library. Nice thing about a mainstream author and publisher: libraries carry these books. I give it 4.5 stars for a mature audience.