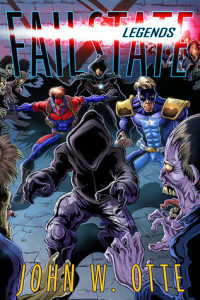 Failstate: Legends by John Otte, Book 2 of Failstate series
Published 2013 by Marcher Lord Press, 455 pages
Genre: Young adult superhero tale, suitable for middle grade and up
Failstate: Legends is the middle book of a three-book series, but it stands alone very well I think. No one who picks it up cold like I did will think this is an unfinished story, and unexplained details from the past just make it seem more realistic.
I found a teenage superhero who's disarmingly bad at everything. Failstate, also known as Robin Laughlin, finds his super powers don't obey him always, and almost no one takes him seriously. It might have to do with the fact that he has to cover his face when costumed, making him look more like a thief in a ragged hoodie than anything else. Or it might have to do with the fact that he got his superhero license through a reality TV show.
Zombies are coming out of nowhere. And Failstate is the only superhero on duty, so he has to stop them. Yes, real zombies. But they aren't possible. So where are they coming from? Will other superheroes from other towns lend their help? Through this struggle, will he win respect, or continue to fail?
The book has a cartoonish cover, but it's not a graphic novel. It has short, action-packed chapters and great story elements, including strong characters who learn and change over time and a plot that's full of surprises. It has a strong faith element too. I recommend this book!
Note: I received a free copy for review.