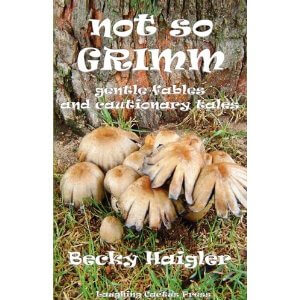 Not So Grimm: Gentle Fables and Cautionary Tales by Becky Haigler
Published 2009 by Laughing Cactus Press (Silver Boomer Books), 132 pages
Genre: Magical realism tales
This collection of 12 tales by poet Becky Haigler is unexpected, refreshing, and fun to read. It's in the style of magical realism, pioneered by 20th century South American writers, in which the story world is our real world, but it becomes apparent that something is weirdly different. That weird difference is totally taken in stride by the characters in the story. So fun! It's also in the style of the fairy tale, with a lot of "telling" and little dialogue. I think it would make a good read-aloud.
The first story is "Mr. Merrill's Extraordinary Driving Cap." Mr. Merrill finds a hat in his store. It's a nice leather hat, and he likes it, so he takes to wearing it. While wearing it he discovers that he … (I'm not going to tell you what!)
Next is "Chronological Order," in which Carolina, a mall store manager, leaves her work in a blizzard and feels a soft bump on her bumper while pulling out of a slide. "She didn't want to think about the dark figure she might have seen as she pulled away from the bank kiosk." The time? Elevenish. She goes home. Her clocks start acting funny…
"Flight of the Wickerplane" is about a man whose neighbor tinkers with a half-size model biplane. To humor the neighbor, the man agrees to go for a ride in the biplane. And …
The characters in these stories are well developed, and the stories are well written. I highly recommend them for all ages!