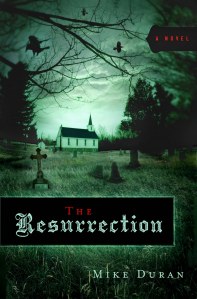 The Resurrection by Mike Duran
Published 2011 by Realms Press, 307 pages
Genre: Christian suspense with paranormal elements
There's a struggle going on in the hearts of the citizens of Stonetree, a coastal California town. For decades, the devil has been winning as New Age businesses take over the downtown and church attendance dwindles. And there are rumors about a hanging 90 years before. A murder, resulting in a curse? Others in the town have gone missing recently.
Ruby Case, a hesitant housewife with a limp, hardly seems like a likely agent for change. First she gets a vision of a new, green leaf on the enormous dead tree that broods over the town from a clifftop. Then she prays for mercy for a dead boy at his funeral, and he comes back to life, astonishing her and the town.
Rev. Ian Clark is Ruby's humble and confused new pastor at her moribund church, where there are only three who want to be in a prayer group, and where many–including Ruby's husband–have sensed hypocrisy and left. In his church office, Clark gets regular and mystifying visits from what seems to be the ghost of a puzzled young man.
Clark's ex-wife calls him and tells him she senses he is in danger. He is, it turns out, a marked man. And Ruby's destiny may be defined by an old prophecy as well, one that seems to foretell her death. Are both of them doomed to die to appease the evil spirits poisoning their town?
This story has memorable characters. It's well told. There are plenty of reasons to keep turning the pages. In short, it's a good book.
Yet, when I had finished it, I wasn't fully satisfied. I hadn't gotten a real sense of the demons driving the story. Instead, the story focuses on their minions, the human bad guys. Also, the dead tree was too static a vision to be arresting to me, as it was to the character who experienced it. So for once, I, the thin-skinned reader, was looking for something a little scarier.
But I suppose if the story had focused on the demons, that would have knocked it into a different genre, horror, and I never would have picked it up because it would have been too scary.
I liked the author's use of "the least of these"–a hesitant housewife and a cowardly pastor–as the Lord's instruments for change. God does that, using the humble and weak for great ends. Read this book. I think you'll like it.
This is part of the Christian Science Fiction/Fantasy Blog tour. I received a free copy of the book for this post. See what others on the tour are saying:
Noah Arsenault
Brandon Barr
Red Bissell
Book Reviews By Molly
Keanan Brand
Kathy Brasby
Grace Bridges
Beckie Burnham
Melissa Carswell
Jeff Chapman
Christian Fiction Book Reviews
Carol Bruce Collett
Valerie Comer
Karri Compton
Wanda Costinak
Amy Cruson
CSFF Blog Tour
Janey DeMeo
Cynthia Dyer
Tori Greene
Nikole Hahn
Katie Hart
Joleen Howell
Bruce Hennigan
Becky Jesse
Cris Jesse
Jason Joyner
Carol Keen
Emily LaVigne
Shannon McNear
Matt Mikalatos
Rebecca LuElla Miller
Mirtika
Joan Nienhuis
Nissa
John W. Otte
Gavin Patchett
Sarah Sawyer
Andrea Schultz
Tammy Shelnut
Kathleen Smith
Donna Swanson
Jessica Thomas
Steve Trower
Fred Warren
Dona Watson
Phyllis Wheeler
Nicole White
Dave Wilson
Author's website: Mike Duran at http://mikeduran.com/