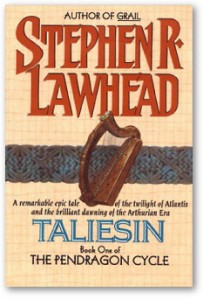 Taliesin by Stephen Lawhead
Published 1987
Genre: Christian Arthurian fantasy, suitable for YA and adults
The Christian Science Fiction/Fantasy Blog Tour this month is asking each of us to review a favorite book. I chose Stephen Lawhead's Taliesin, Book One of his five-book Pendragon Cycle. Unfortunately I no longer have a copy of this book–I am sure I enthusiastically lent it to various people until someone forgot to return it. But I do remember it pretty well I think.
This is the story of Charis, a princess of Atlantis, and Taliesin, a bard from Britain. A prophet on Atlantis warns of impending doom, but of course everyone there ignores him. Except, after a while, Charis, who prepares her family for disaster. A group of them survives the cataclysm that swallows Atlantis and lands on the shores of Britain in the days when Rome's influence is waning.
The Atlanteans are bigger, taller, and stronger than the Britons, and they live considerably longer–not to mention they are used to the comforts of civilization. They are called the "Fair Folk" in the book and seem mysterious to the simple Britons.
Taliesin, meanwhile, is a druid bard who becomes a Christian. He woos, converts, and wins Charis, now the "Lady of the Lake" living on an island in a lake in southern Britain with her father. From the union of Charis and Taliesin comes Merlin, who has prodigious gifts from both his parents.
The rest of the Pendragon Cycle is built on this foundation. I loved these books, especially the solid Christian worldview underpinning this wonderful fantasy. If you haven't read them, do so!!
Find out favorite books of the other tour members! See below.
AND don't forget to vote for your favorite Christian fantasy novel published in 2009. This is the Clive Staples Award; votes are being taken through the month of August, so your time to vote is running out.
Vote here: http://clivestaplesaward.wordpress.com/2010/08/02/2010-clive-staples-award-voting/
See list of nominated books: http://clivestaplesaward.wordpress.com/2010-nominations-complete-list/
CSFF tour members for this month:
Brandon Barr
Thomas Clayton Booher
Keanan Brand
Grace Bridges
Beckie Burnham
Morgan L. Busse
Jeff Chapman
CSFF Blog Tour
Stacey Dale
D. G. D. Davidson
Jeff Draper
George Duncan
April Erwin
Andrea Graham
Tori Greene
Ryan Heart
Timothy Hicks
Becky Jesse
Jason Joyner
Julie
Carol Keen
Krystine Kercher
Mike Lynch
Rebecca LuElla Miller
New Authors Fellowship
John W. Otte
Donita K. Paul
Chawna Schroeder
James Somers
Speculative Faith
Rachel Starr Thomson
Steve Trower
Jason Waguespac
Fred Warren
Dona Watson
Phyllis Wheeler
KM Wilsher