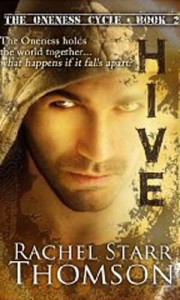 Hive by Rachel Starr Thomson, Book Two of the Oneness Cycle
Published 2013 by Little Dozen Press, 299 pages
Genre: Christian supernatural suspense, suitable for teens and adults
I reviewed the first book in the series, Exile.
Tyler and Chris, buddies from childhood, decide to take on the Hive, a group of demon-possessed people. The Hive works to destroy the Oneness warrior group that Tyler belongs to. Tyler's not afraid to attack the Hive because he is part of the Oneness, though a very new member. But Tyler's afraid for Chris, a nonmember. Chris, an impetuous fellow, wants to get the Hive because it threatens the woman he loves. But he doesn't have the spiritual warfare skills. And he doesn't care.
Soon Tyler and Chris languish in captivity in a strange commune where the words spoken seem right, more or less, but actions are not. Why are they being drugged? What does the commune leader want with them? How can this leader claim to be Oneness? Will they escape with their lives?
Engaging characters and a gripping, unpredictable plot make this a wonderful evening's reading. I'm enjoying this trilogy, which I think should be accessible to nonChristians as well as Christians. And of course, the plot leads into the third book, which I hope to read soon!