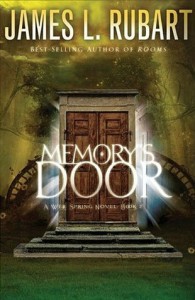 Memory's Door by James L. Rubart, Book 2 of the Well Spring series
Published 2013 by Thomas Nelson, 353 pages
Genre: Christian supernatural
Note: see Kindle Fire giveaway promo at the end of this post.
The first book of this series, Soul's Gate, showed the formation of the group of four people known as the Warriors Riding who leap into battles in the spirit realm. They're real battles, with death, blindness, and physical wounds a distinct possibility. Yet the three men and one woman are willing to risk it to bring healing to various souls.
This second book, Memory's Door, brings a huge assignment (in the form of a prophecy) to the Warriors Riding. That assignment is defeating the demon known as the Wolf, manifesting as the "spirit of religion" that urges Christians to depend on rules and the work of their hands to get into heaven.
Reece, the group leader, is plagued by doubt and fear as he grapples with his loss of eyesight from a previous encounter with a demon. Brandon, the singer, finds he has a stalker, and his career takes a nosedive after an encounter with a radio talk show host. Meanwhile Dana gets a time-consuming promotion at work and reconsiders her commitment to the Warriors. And Marcus, the professor, seems to find his life occasionally switching to alternate timelines in which his dead son is still alive. Is he going crazy?
Can these four renew their commitment to each other and move ahead with the battle? Or is it all just too much?
What do I think? This book is full of action in the spirit realm, which I am having some trouble getting used to visualizing. However, now that we are in Book 2 and heading for Book 3, I am getting more used to it.
Rubart's characters carry regrets and make huge mistakes. They get ticked off. In short, they've convinced me they're real people. Very cool! Of course they're in a pickle, and I'm not seeing the way out. In short, this book is very well done and based on solid theology. Read it!
About the Kindle Fire giveaway:
James L. Rubart takes readers deeper into the world he began in Soul's Gate (a 2013 Christy Award winner) with Memory's Door (Thomas Nelson), the second book in the Well Spring series.
James is celebrating the Memory's Door release with a fantastic Kindle Fire HD giveaway.
One winner will receive:
A Kindle Fire HD
Soul's Gate and Memory's Door by James L. Rubart
Enter today by clicking one of the icons below. But hurry, the giveaway ends on September 7th. All winners will be announced September 9th at James' blog .
Don't miss a moment of the fun; enter today and be sure to visit James' blog on the 9th to see if you won! (Or better yet, subscribe to his blog (enter your email in the blog sidebar) and have the winner announcement delivered to your inbox!)
Enter Today – 8/19 – 9/7!