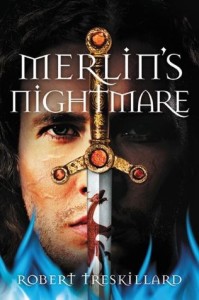 Is the King Arthur saga so well-worn in our imaginations that we don't have room for something more on it? Becky Miller has raised this question.
I say there's room for new imagination. In Robert Treskillard's trilogy The Merlin Spiral, concluding with Merlin's Nightmare (which I reviewed here), the author has got some fresh new takes on the characters. Merlin is a blind, lovesick teenager, and Gwenivere is a gypsy. The sword in the stone … well, I won't spoil it for you. There's something really wild about that stone, too!
He is able to take us back to Britain in the years after the Romans withdrew, based on a vast foundation of historical research that makes the settings and situations ring true. His Britain is a far cry from the false medieval setting envisioned by early writers of these stories.
In Merlin's Nightmare, we see a disaster for the Britons unfold. Where they had lived as a majority, many or most of them are overcome by enemies including the Saxons, leaving the survivors a rag-tag band. This group, we expect, will seek to regain their place under King Arthur in future books.
But we know how the story ends: the Anglo-Saxons took over all the Britons' lands except for Wales and (in France) Brittany. That's the thing about writing the Arthurian legend: we know the main characters, and we know how it all ends. But … do you have room for new imaginings here? I do.
Here are the two movie trailers for the first book (and thus the trilogy). The first is from Zondervan, the publisher; the second from the author: