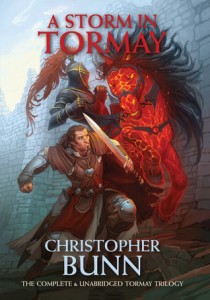 A Storm in Tormay by Christopher Bunn, a compilation of the Tormay trilogy: The Hawk and His Boy, The Shadow at the Gate, and The Wicked Day.
Self-published in 2010, 738 pages
Genre: Fantasy, suitable for teens and up
A young apprentice thief is given the task of stealing an item from a house guarded, or warded, by magic. Jute has got a natural talent for detecting the "wards" that protect the house, and he manages to steal the item and give it to the man who ordered it. But not before he disobeys instruction and opens the box. He can't help himself somehow. And so the beautiful dagger inside it draws blood from his finger.
As a result, a variety of people suddenly want him dead or captured. Can he stay ahead of them? How can he outwit the wizard and the various collection of bad guys? Will the new powers he's developing help him or betray him?
What do I think?
This book is not in the genre I normally enjoy, Christian fantasy. There seems to be a deity who set the world in motion and created and assigned four guardians to protect it, but there's no benevolent God in charge, and the forces of evil at times seem overwhelming.
What's the rating? There are many violent scenes but no sex.
That said, I found the book to be well written. This is a sprawling, page-turner story with a huge cast of characters, each one well drawn. It reminds me a bit of Avatar, the Last Airbender–I wonder whether the author got some inspiration from that, as the boy Jute discovers he has become one of the four guardians, the one in charge of air (as opposed to earth, water, and fire), and slowly grows into his powers. I suspect that fans of secular fantasy will enjoy this book.