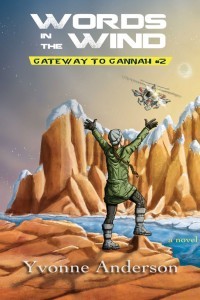 Words in the Wind, Book 2 in the Gateway to Gannah series, by Yvonne Anderson
Published 2012 by Risen Books
Genre: Christian science fiction, suitable for teens and up, featuring a strong faith element
This book is the sequel to The Story in the Stars, Gateway to Gannah Book 1, which I reviewed earlier. About 12 years after the end of the first book, the second book opens to show us Dassa and Pik married and parents of two children, heading a settlement of a thousand "earthers" who are attempting to begin to repopulate Gannah. (Dassa is the only native of Gannah who is alive, the sole survivor of a plague, and therefore is the toqueph or ruler of Gannah.)
Dassa is returning from a mission elsewhere, and she's in an aircraft in a storm. As things go horribly wrong, she realizes the folly of the way she has been living lately, relying on herself rather than the Yasha, the benevolent creator of the universe who longs for her prayers.
Dassa survives the crash but finds herself stripped of the telepathic communication that links her to her children and to the animals of Gannah. She's also unable to hear. Her arm is broken, she's caught without a coat in the beginning of an arctic winter. Can she trust the Yasha to take care of her?
Meanwhile Pik, the doctor who was once her worst enemy and who came to love her, is struggling with a host of problems in her absence. Some of the settlers are rebellious. So is his little daughter, whom he just wants to spoil. The sentient animals of Gannah seek to resume their deadly war against humans, but only Dassa can deal with them.
He wants to go and look for Dassa, but his responsibilities and technical problems prevent that. Can he too trust the Yasha to take care of Dassa and provide what he needs?
What do I think?
I enjoyed Yvonne Anderson's richly drawn characters, her gripping story style, and especially the faith message, which I found very satisfying. The book contains story arcs that begin and end with this book, but it also contains story arcs that aren't tied up neatly. So, I'll be looking forward to reading the next book to find out what happened!
Read my reviews of this series: