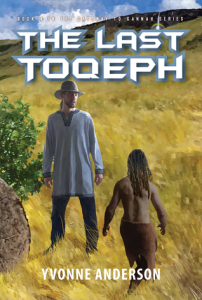 The Last Toqeph by Yvonne Anderson, Gateway to Gannah Series #4 of 4
Published by the author, 2014, 402 pages
Genre: Christian fantasy/sci-fi, young adult and up
Adam, heir to the throne of the new settlers of the planet Gannah, sees a fairly smooth road before him. Though he's only one-half native Gannahian, no one is more qualified to succeed his mother, the ruling toqeph. At least, that's what he thinks until he goes on a lonely quest and meets a young man in a desolate corner of the planet. This young man may have a better claim.
But, since all native Gannahians except Adam's mother were wiped out in a plague, this young man isn't supposed to exist.
Does Adam report the existence of the young man? Or just let things ride?
Gannahians believe they are by nature full of integrity. But Adam discovers that's not so. He personally has the opportunity to right an ancient wrong, at great cost to himself. Will he do it?
This book caps the four-book Gateway to Gannah series, which winds through a large cast of characters and situations. I really enjoyed reading this series, and I am sure you will too.
Read my reviews of this series: