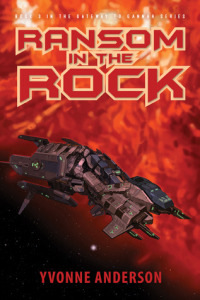 Ransom in the Rock by Yvonne Anderson, Gateway to Gannah Series #3 of 4
Published by the author, 2014, 295 pages
Genre: Christian fantasy/sci-fi, young adult and up
It's time for Lileela, age 15, to return to her home planet. But she's disgusted with the parents who sent her away to the planet Karkar ten years before. Karkar's a civilized place. Why would she want to go back home to backward, underpopulated Gannah?
Soon after the rebellious Lileela returns, she learns that her parents have paid a king's ransom for her return. And she learns that the people accompanying her from Karkar are planning to conquer and colonize Gannah. Where do her allegiances lie now?
Meanwhile, a crack special forces team from Earth is handed the assignment to kidnap a Christian evangelist and his family and send them into prison and slavery. Problem is, the leader of the team, Faris, was secretly evangelized himself by this man a year earlier. Can he obey his orders? Should he? If he does, where can he flee?
This book continues the tales of Gannah, a richly imagined world where natives can communicate telepathically with each other–and with the Yasha, the Lord. While Jesus died on Earth for sins of Earthers, his death covers the sins of others too, the people of Gannah have discovered. Gannahians are particularly in tune with the Yasha, because they know the ancient language of Gannah is the same language as that of the ancient children of Israel on earth, no coincidence but a work of the creator God.
I enjoyed this book. I really enjoy the richly imagined planet and its history, along with its colorful characters.
Read my reviews of this series: