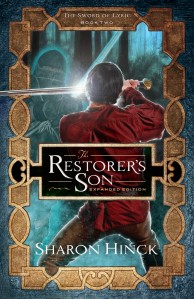 The Restorer's Son by Sharon Hinck, Book Two of the Sword of Lyric series
Published 2012 by Marcher Lord Press, 470 pages
Genre: Christian medieval fantasy
Kieran is angry at everyone. It's easier to be angry than to have other emotions. A trained warrior, he takes orders from nobody.
God, called the One in his world, is calling him to be the next Restorer. Like Gideon, Kieran is asked to demolish idolatrous temples. Like Jonah, Kieran is asked to speak the words of the One to a land full of ruthless enemies.
But Kieran doesn't believe.
The book encompasses Kieran's struggle as God turns him around to face his calling. Will he do it? Can he do it? Can he accept the cost?
This book aims at an amazing transformation in its main character, one you almost never see in fiction. Here's why: starting the main character out in such a dark place risks losing readers at the beginning of the book. Here it works because this is the second book in a series, building on previous positive and negative information given about Kieran in Book One, where he was a secondary character.
I found this to be a gripping and effective tale, speaking volumes to anyone who has ever wrestled with God.
Men, you'll like this book. While the (highly effective) protagonist of the first book in the series was a soccer mom, possibly not appealing to male readers, the protagonist of this one is a warrior. The protagonist of the third is also a male. So, dive in, men! If you don't, you're missing out!
Read my review of the first book in the series, The Restorer.