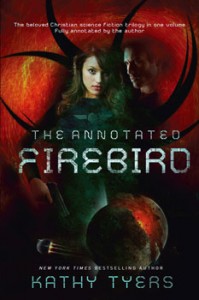 Firebird (The Annotated Firebird) by Kathy Tyers
Published 2011 by Marcher Lord Press, the first 353 pages of a combined volume
Originally published in 1987 by Bantam Spectra Books
Genre: Christian science fiction, adventure-romance
This book, a bestseller that kicked off the genre of Christian science fiction in 1987, has now been published three times, each about 10 years apart. The volume from Marcher Lord Press contains not only Firebird but two sequels.
Well, it's always best to read a classic if you've never read it, so I picked up Firebird and found a heartstopping adventure-romance. It reminded me in some ways of Star Wars, but with a Christian worldview. I only read the first book in the series, but I'm planning to read more. Plainly the tale has an epic sweep to it, reaching down at least a generation as well as across worlds.
Lady Firebird Angelo was born the third daughter of the queen of her world. That sounds like she might have had an easy life. But the warped rules on her planet dictate that she must die as soon as she drops down to fifth in line to the throne. It's not just those in the royal family; this happens to the heirs of all the major houses on her planet. She's a "wastling," born to be wasted. Her time comes, and Firebird, a pilot, is sent on a suicide mission along with other wastlings. But her enemy saves her life. What can she do now?
Her enemy, Brennan Caldwell, is a telepath. Humans have populated the galaxies, but one group took the liberty of altering the genetics of their children, and he's one of the results. How can he hope to fit in? And what can he do with his attraction to the woman he rescued, who isn't a telepath?
What do I think? I really enjoyed reading this book. The characters were unusual and compelling, the faith element strong and wonderful, and the plot unpredictable. You'll like it too, and I expect you'll dive into the sequels. Which is what I am about to do. Not only are two of the sequels contained in this volume, but Marcher Lord Press has published a third, Wind and Shadow.
But guess what, folks, there's another book in the series, Daystar, never before published! And that's just come out from Marcher Lord Press.