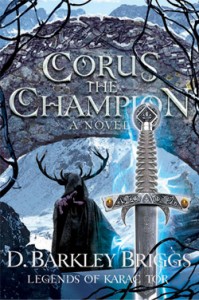 Corus the Champion by D. Barkley Briggs
Book 2 of the Legends of Karac Tor
Published 2011 by Living Ink Books (AMG Publishers), 411 pages
Genre: Christian fantasy, middle grade and up
Corus the Champion starts right where the previous book, The Book of Names, left off. I had read The Book of Names last year, so I plowed into Corus the Champion. Big mistake. I soon got confused, not remembering details, and had to backtrack and re-read Book 1. Book 2 does not stand by itself! But it does contain the story arc of an individual, Corus.
Corus had been mentioned in Book 1 several times as the missing champion, the person betrayed by one of the major characters, Sorge, a monk. But I get ahead of myself. In Book 1, four boys from Missouri get four invitations from four ravens. These invitations, dropped at the feet of the two older ones in the vicinity of a weird old stone arch, talk about coming to the Hidden Lands.
In Book 1, the older two boys, Hadyn and Ewan, crawl through the arch at dawn and find themselves in Karac Tor, the Hidden Lands. They help the faithful in the land defeat a sorceress. But she's not the root of the evil–she's human. The root is Kr'Nunos, a Satan-like figure. Then the two younger boys, twins Gabe and Garrett, crawl through the stone arch into the Hidden Lands, clutching their invitations, and the story gets vastly more complicated. This is the start of Book 2.
The humans landing in Karac Tor arrive with gifts that they didn't have back on earth. Hadyn can control rope and metal, a useful skill if you're tied up or locked up. Ewan can play hypnotic music on his flute. Gabe can speak to birds. And Garrett finds himself learning all kinds of new things from the person we know as Merlin, a "merling" or visionary from Karac Tor named Tal Yssen (Taliesin). They find themselves stepping into the sequel to the Arthurian legend. It's the story that concerns what happened to the dying King Arthur, whisked away to Avalon. Soon Ewan is asked to give up his gift to save his friends. Will he do it?
And what of Corus? He's the Champion of Karac Tor, betrayed by his best friend Sorge 20 years before over a woman (the defeated sorceress). He was held captive 13 years by the Fey, cold and calculating fairies, who then sold him to the devil Kr'Nunos. Since then he's been in torment, wanting to die but held to life by the fact that he's the Champion, and he has no heir. Sorge learns Corus is still alive and determines to rescue him, single-handedly if need be. But does Corus want to be rescued?
And how about Kr'Nunos' plan to take over Karak Tor with zombie dirt monsters? It certainly looks like he's going to win.
What do I think?
Pros: It's a large, wild story, and I thoroughly enjoyed it. The four brothers have distinctly different personalities that come through to the reader. Sorge, another main character, also is refreshingly real, a sinner who has repented and is determined to right the wrong he did, whether it kills him or not.
There's a strong Christian faith element woven in, and plenty of heroism and brave deeds. It's got lots of battles in it, so it's a book that should very much appeal to boys, but has touches that will appeal to girls too.
Cons: Being a large, wild story, it was occasionally confusing to me. This book has numerous points of view. Each of the four brothers from Earth (Hadyn, Ewan, Gabe and Garrett) has a story and point of view. Then there are occasional chapters with other points of view: Corus, Sorge, Kr'Nunos, Brodan, Reggie (for a total of nine) and also once in a while an omniscient point of view.
I think would be best to read this book when you don't have to put it down very often. That's my plan for the next book, which I very much want to read.
This is part of the Christian Science Fiction/Fantasy Blog tour. To see what others are saying, follow these links:
Gillian Adams
Noah Arsenault
Beckie Burnham
CSFF Blog Tour
Carol Bruce Collett
Theresa Dunlap
Emmalyn Edwards
April Erwin
Victor Gentile
Nikole Hahn
Ryan Heart
Bruce Hennigan
Christopher Hopper
Jason Joyner
Julie
Carol Keen
Krystine Kercher
Marzabeth
Shannon McDermott
Rebecca LuElla Miller
Eve Nielsen
Sarah Sawyer
Kathleen Smith
Donna Swanson
Rachel Starr Thomson
Steve Trower
Fred Warren
Phyllis Wheeler
Nicole White
Rachel Wyant
Author's Web site – http://hiddenlands.net/index.php?Itemid=49&id=19&option=com_content&task=view