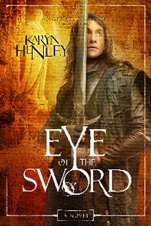 Eye of the Sword by Karyn Henley, Book Two of the Angaleon Circle
Published 2012 by Waterbrook Multnomah, 233 pages
Genre: Christian fantasy/supernatural, suitable for teens and up
Trevin's a commoner who's in love with a girl who turned out to be a princess. Now that she's claimed her rightful place, the prince of the neighboring kingdom has arrived to seek her hand and an alliance. The king, wanting peace, is all ears. But instead of protecting his ladylove, Trevin must head out on a quest to find missing knights and missing magical harps. How can he stand to leave his beloved vulnerable to the advances of this jerk?
But leave her he must, or he's no knight. The world has been cut off from heaven. Angels are stranded here, and souls of the dead are stuck here too–in the same kingdom of Dregmoor that the prince comes from. The earth sickens. If Trevin can find the harps and give them to Princess Melaia before the upcoming alignment of stars, she is supposed to be able to fix the stairway to heaven, according to prophecy.
The missing knights–do the Dregmoorians have something to do with that too? How will Trevin find them and release them?
What do I think?
Trevin is a hero with feet of clay, a past that comes back to haunt him again and again. It's refreshing to see him working to overcome his own worst enemy, himself. He figures out he's half angel near the beginning of the book, but the people who raised him died when he was young, and he never got a chance to ask them any questions. Many surprising facts about his identity keep coming out as the book rolls forward. It's refreshing to see a hero who struggles with guilt and temptation just as we struggle.
Any Christian element of the story is in the deep background. This book is clearly intended to appeal to nonChristians as well as to Christians. The author has a ringing statement of faith on her website, so it's clear she is a Christian. And who better to sate the curiosity of nonChristians about angels than a Christian?
Starting with Book 2 in a series may seem foolish, but I did it, and it worked out okay. There was a compelling story at the beginning of the book, told without referring to the previous story. And the previous story was summarized in snippets throughout the book, providing the needed background without long boring passages.
So, read this book!
In conjunction with the Christian Science Fiction/Fantasy Blog Tour, I received a free copy of this book.
Author's Web site – http://www.karynhenleyfiction.com/Karyn_Henley_Fiction/welcome.html
Author Blog – http://www.maybeso.wordpress.com/
Author Facebook page – #/pages/Karyn-Henley/140411189331787?v=wall
Please check out what others on the tour are saying about this book.
Julie Bihn
Thomas Fletcher Booher
Keanan Brand
Beckie Burnham
Jackie Castle
Brenda Castro
Jeff Chapman
Christine
Theresa Dunlap
Cynthia Dyer
Victor Gentile
Ryan Heart
Janeen Ippolito
Jason Joyner
Carol Keen
Emileigh Latham
Rebekah Loper
Shannon McDermott
Karen McSpadden
Meagan @ Blooming with Books
Rebecca LuElla Miller
Anna Mittower
Mirriam Neal
Nissa
Faye Oygard
Nathan Reimer
Chawna Schroeder
Kathleen Smith
Donna Swanson
Jessica Thomas
Steve Trower
Shane Werlinger
Phyllis Wheeler