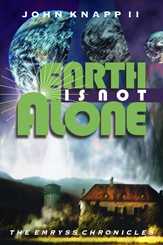 Earth Is Not Alone by John Knapp II
(Emryss Chronicles)
Published 2009 by Ephemeron Press (self-published), 496 pages
Genre: Christian sci/fi, young adult (and up)
This book entwines two story threads which appear to be unrelated. But I am guessing that, in sequels, we will find out that they are in fact related.
Here's one story thread: in a future year, an electromagnetic pulse attack from an unknown source knocks out all computer-chipped electronics, which encompasses virtually all things electrical. America descends into a dark age. In the "Susquehannah Territory," 25 miles by 18 miles in Pennsylvania, citizens form a government and erect a wall around the territory to keep the refugees from the big cities from overwhelming them. Barter is the mode of life. Kerosene lamps are back in use. There are no telephones. Any electricity comes from generators, and is sparingly used. We wonder: who did it? why? and is it permanent?
Here's the other: It is one year after the electromagnetic pulse (EMP) disaster. Triana, the future valedictorian of a high school in Susquehannah Territory, is accused of cheating along with Michael, a friend.
Both of them have turned in folklore papers dealing with the same family–on another planet. Were they in cahoots? No, they say.
As the teacher's investigation proceeds, we begin to guess that Triana came from this other planet. This is Emryss, the setting of the two tales.
Much of the book is taken up by the telling of the two tales. These provide background information on what appears to be Triana's family on Emryss, and a reason for her presence on Earth. These tales — actually one long tale — are full of action and hard to put down, as is much of the book. It's definitely Christian. Jesus Christ is present on other worlds where he is called the God-son.
What do I think?
This book is unorthodox in its presentation. The information on the EMP disaster is conveyed using letters and news articles (an old device, actually). Then the book switches to narrative mode when picking up the cheating accusation story. In the narrative mode, the author does a fine job, using plenty of dialog and action and developing his characters. The two tales are particularly enjoyable.
However, there is a bit of disconnect between what the two tales are said to be–a history written down by someone for later generations–and what they sound like. They sound like a regular novel narrative. I think they should sound more like a folktale, to be more believable.
That said, the narrative style is definitely conducive to creating a story that is hard to put down, which this is. Some of it definitely reminds me of Indiana Jones movies.
The characters spend quite a bit of time on detective work using numbers (numbers of weeks, numbers of years) found in the tales. There's also some technical info on the electro-magnetic pulse, and a discussion of how the Lord would send his Son to save people on other planets. Once on Earth for all? Or simultaneously on all the inhabited planets? So the book has more of a sci-fi feel to it.
Unlike nearly all other self-published novels I have read, this one has no typos, confusing wording, or grammar glitches. Knapp is clearly a professional.
Want to speculate about other worlds and how God would save them? Want to read good science fiction with a solid Christian basis? Then this book is for you. –Phyllis Wheeler