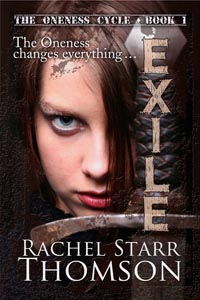 Exile by Rachel Starr Thomson, Book 1 of the Oneness Cycle
Published 2013 by Little Dozen Press, 223 pages
Genre: Christian supernatural fiction, YA flavor
Tyler and Chris are young men who're making a living fishing. One day they find a live human being in their net.
It's Reese, a spiritual warrior who's been cast out from her clan, the Oneness. She's an exile, and her life has lost all its meaning, so she jumped off a cliff–into the net.
The fact that she's an exile doesn't stop the demons from attacking her. Tyler and Chris watch amazed, and they want to help this damsel in distress. But they know nothing about the Oneness.
How will Tyler and Chris respond to Reese's predicament and the call of the Oneness?
I sped through this short, fast-paced novel, pleased by the well drawn characters and the surprising plot. Thomson has done a great job of portraying difficult emotional journeys. It's a world that a Christian will recognize, and that a nonChristian might feel comfortable with. Read it!