I was intrigued by the wonderful book I reviewed yesterday, Rumi and the Savage Mountain by Bradley Roth. Its protagonist is a boy who lives in a village in the Andes mountains, and it's very convincingly told. In addition, it has plenty of what looks like magical realism to me, a genre invented by South American writers. So how did such a book come to be written by a gringo with a name like Bradley Roth? So I asked him some questions:
1. Have you heard of magical realism? If so do you consider this book to be in this genre?
Yes, I have heard of magical realism. Gabriel Garcia Marquez and Isabel Allende come to mind. My experience with Marquez or Allende is that their magical realism uses the absurd to pique our moral imagination. My writing is set in the mythical Andes, drawing from authentic Andean myths and legends, though modified a bit to fit in a few things, like the faith of Tayta Siwar or the story about Junior's dad. It's a different way of looking at the world, but it's not intentionally absurd as I see magical realism being.
2. Do you envision adults reading your book as well as kids?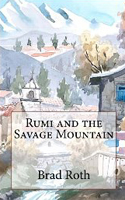 Yes, but I've tried to gear my story toward the 8-12 set.
3. How were you able to get into the head of someone who lives such a different life from that of the average American?
Great question. We recently returned from a year of missionary service with Eastern Mennonite Missions in the Cuzco, Peru. We were based in the city, but as part of our work we travelled out to extremely rural villages. We got a taste of what life was like in the mountains. During our time in Cuzco, we also studied Quechua. A few Quechua words pop up in the story. And I'm interested in Andean culture, folk beliefs, and history.
If you're interested, you can read more about our journey in Peru at #/rothsinperu
I would also add that the voice of the characters is intentionally a bit anachronistic. Rumi, Kiya, and Junior talk a little like kids in 21st century US.
4. Does Rumi live in Peru?
It could be Peru, or any place in the Andes. It's my imagining of life shortly after the Inca Empire was overthrown by the Spaniards–except that creatures out of myth are alive and well and walking about. And there's a bit of alternative history woven into the background: the Lamb was born into the Andes, and the faith centered in his life and way is embodied by the Taytas.
5. What literature do you like to read?
I like fantasy and sci-fi that takes questions of faith seriously. There's scant little of it. I read Narnia when I was a kid. Ursula LeGuinn's Earthsea series and Mary Doria Russell's Sparrow and Children of God books strike me. I would like to find compelling fantasy that takes Christian nonviolence seriously. I'm working on that.