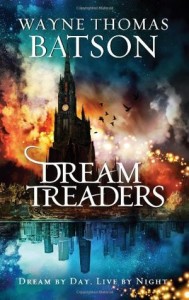 Dreamtreaders by Wayne Thomas Batson, a review
Published 2014 by Thomas Nelson, 289 pages
Genre: Middle grade fantasy fiction
Archer Keaton, age 14, serves humanity as a Dreamtreader. In his dreams, what he imagines becomes "real." So, in a battle, he can call amazing weapons into being (such as a bulldozer blade to mow down the opposition). But the bad guys can too, when they're not trying to deceive him. It's fun and kinda scary.
Archer seeks to make repairs in this lovely fantasy place, the world of dreams, where things are beginning to turn dark. It becomes apparent that even his life is at risk, and the lives of his loved ones in the real world.
Speaking of the real world, there are strange things going on there too. Can it be that the troubles in the dream world and the real world are connected? Can it be linked to his best friend who seems to have abandoned him? What about the new boy at school? Is he a friend–or not?
It's a great story (first in a series) that should appeal to a variety of ages, but particularly to boys who are squeamish about reading. It's full of action with a well-constructed plot, and characters we can all identify with. It has a reasonably subtle faith element, so nonChristians should enjoy it too, and maybe even find some food for thought. I'd be happy to share this book with others.
This post is part of the Christian Science-Fiction/Fantasy Blog Tour, and I received the book from the publisher free of charge. To see what others are saying, take a look at the following:
Beckie Burnham
Jeff Chapman
Pauline Creeden
Vicky DealSharingAunt
Carol Gehringer
Victor Gentile
Rebekah Gyger
Christopher Hopper
Jason Joyner
Carol Keen
Jennette Mbewe
Shannon McDermott
Meagan @ Blooming with Books
Rebecca LuElla Miller
Nissa
Writer Rani
Nathan Reimer
Chawna Schroeder
Jojo Sutis
Steve Trower
Shane Werlinger
Phyllis Wheeler
Author Website – http://www.enterthedoorwithin.blogspot.com/