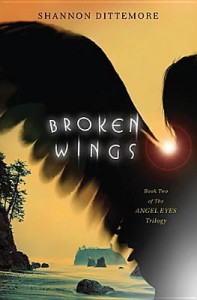 Broken Wings by Shannon Dittemore, Book Two of the Angel Eyes trilogy
Published 2013 by Thomas Nelson, 304 pages
Genre: Young adult supernatural, Christian
Brielle has a gift to sometimes see angels and demons, though no mortal normally can. And Jake, her boyfriend, has the gift of healing in his hands. The news has reached the dark throne: the Prince of Darkness himself wants both of them kidnapped and brought to him. And he's sending his unseen army to Stratus, Oregon, to get them. Archangel Michael's forces are coming to the rescue, but slowly.
Meanwhile, Brielle and Jake are oblivious to the forces converging over them. All Brielle sees is that her beloved father hates Jake. Her father has also started dating Olivia, who seems … not to be on Brielle's side.
Brielle and her father still mourn the death of Brielle's mother fifteen years before. Just how mysterious this death was is only starting to become clear to Brielle. Dreams show Brielle shards of truth: a young girl living in fear, a dying woman. When Brielle's mother's grave is desecrated, Brielle discovers that what her father told her about her mother's death was a lie. And where is the truth? Whom can she trust?
This book is a worthy sequel to its wonderful predecessor, Angel Eyes. The prose sings. The characters speak to the heart. And it's a tale of brokenness and ultimate redemption. What more could we want? If you haven't read this book, what are you waiting for?
Read my review of the previous book, Angel Eyes: http://www.phylliswheeler.com/angel-eyes-by-shannon-dittemore-a-review/
This is part of the CSFF (Christian Science Fiction/Fantasy) Blog Tour. Please check out what others are saying about this book:
Gillian Adams
Julie Bihn
Jennifer Bogart
Beckie Burnham
Pauline Creeden
Janey DeMeo
Theresa Dunlap
Emma or Audrey Engel
Victor Gentile
Nikole Hahn
Becky Jesse
Jason Joyner
Karielle @ Books à la Mode
Carol Keen
Emileigh Latham
Shannon McDermott
Meagan @ Blooming with Books
Megan @ Hardcover Feedback
Rebecca LuElla Miller
Joan Nienhuis
Nathan Reimer
James Somers
Kathleen Smith
Jojo Sutis
Steve Trower
Phyllis Wheeler
Shane Werlinger
Author Website – http://shannondittemore.com/