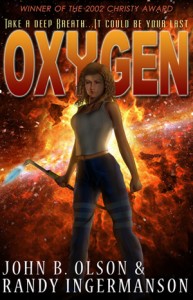 Oxygen by John B. Olson and Randy Ingermanson
Originally published in 2001 by Bethany House, 368 pages; now available on Kindle
Genre: Christian near-future science thriller
Valkerie Jansen is a capable scientist who keeps her head in awful situations, so it's no surprise that she's drafted to join a mission to Mars. Problem is, she's replacing the beloved commander of the group of four, and the other three have already been training for many months. Can she fit in?
After plenty of training, the new group of four takes off. But apparent sabotage causes an explosion that eats up much of their oxygen, and there isn't enough for all four of them to make it to Mars. They don't have the fuel to turn back. So… Who will live and who will die?
Because of the sabotage, the teammates can't trust each other. Is this a nightmare? Or does it become a tale of ingenuity in the face of insurmountable odds?
What do I think? I really enjoyed this award-winning book. I learned a whole lot about how NASA works and what a mission to Mars, using current technology, would look like, what it would be like to be in space. And of course I was wonderfully entertained by this great story. I'm glad to hear there's a sequel!