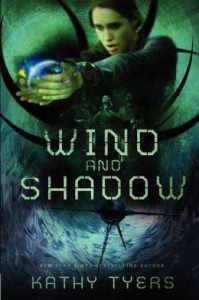 Wind and Shadow by Kathy Tyers
Published 2011 by Marcher Lord Press/Enclave Publishing, 344 pages
Genre: Christian science fiction (space opera) suitable for YA and up
Twins Kiel and Kinnor Caldwell don't get along very well. One's a priest, the other a warrior. But when Kiel, the priest, suddenly goes missing, Kinnor risks everything to look for him.
The scene of the apparent kidnapping is a desolate planet with no atmosphere, with a small population living in domes or underground. Mikuhr is the occupied planet that is home to the ancient enemies of the Caldwell family.
On this planet, a diplomat named Wind feels her calling is to get warring factions to talking and bring peace. But no one seems to take her seriously.
Meanwhile, Kiel and Kinnor's sister Tiala in a faraway monastery accepts an assignment that's even bigger than her brothers'.
This book has intriguing characters and a strong faith arc and message. Tyers' fourth book in a five-book sequence set in the same universe carries its own weight with a very good story. I'm looking forward to reading the fifth and final Firebird novel next!