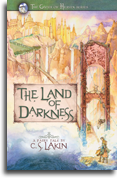 The Land of Darkness by C.S. Lakin
Published by AMG Publishers, 2011, 313 pages
Genre: Christian allegory, suitable for middle grade and up
C.S. Lakin is writing what she calls fairy tales, but which I would call well-developed allegory, like Pilgrim's Progress with more description added. At the same time, there are some elements more common to traditional fairy tales, such as talking toads and a witch casting spells.
Callen, a woodworker's apprentice, finds an amazingly intricate drawing of carvings on a mysterious wooden bridge. He decides to take a little trip to see if he can find out more about the bridge.
Meanwhile, the master of his woodworking shop has a niece who's in serious trouble. Her father has married a beautiful woman who's really, Jadiel suspects, a hag who has bewitched him. The evil stepmother and her two daughters make Jadiel's life fully miserable. Finally the stepmother tries to kill Jadiel, but Jadiel has good advice from a talking toad. When murder fails, the stepmother sends Jadiel on a fool's errand.
And so Jadiel, age 12, and Callen, age 31, meet up on the road, each on an impossible quest. Where will their adventure lead them? What will they learn?
What did I think?
Lakin does a good job of setting the stage, crafting characters, writing believable scenes, and so on, all the tools of the writer's craft. What I most enjoyed about this book was the central metaphor of a bridge, the bridge that Callen has gone looking for. What it is and means becomes clear only at the climax of the book, and it's a beautiful thing, very memorable. I recommend this book.