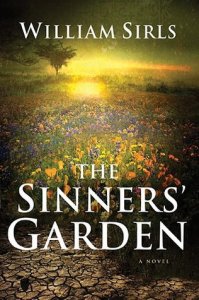 The Sinners' Garden by William Sirls
Published 2013 by Thomas Nelson, 401 pages
Genre: Christian fiction with a touch of the weird
A small-town police officer, Heather, wonders whether she'd really rather be a teacher. Her good friend, former jailbird Rip, just wants to be a blessing to his family, especially his troubled teenage nephew. That nephew, Andy, hides behind his facial scar from a burn inflicted when he was three years old. And his mother continues to blame herself for that incident.
Into this stew come some strange things. Someone starts breaking and entering around town, leaving paper bags full of just the right amount of money to meet the inhabitant's needs, confounding Officer Heather and others who would solve the "crimes." Teenager Andy hears and speaks prophetic words from his broken ipod, and a mysterious flower garden appears overnight in an inaccessible urban wasteland for all of them to see and wonder at.
If you love complex characters, unexpected plot twists, and messages of hope, you'll love this book. I did.