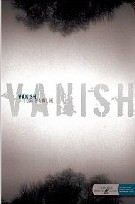 Vanish by Tom Pawlik, a Review
Published by Tyndale House Publishers, 2008, 364 pages
Genre: Christian suspense
I'm no good at reading suspense–I get anxious. Nevertheless, for the sake of the CSFF blog tour, I persevered and read this book. (Actually I skipped the middle and then went back and read it later.)
Pawlik tells the tale of three individuals living in Chicago and a surreal experience they share. A cloud rolls in from the east, not going with the prevailing wind. It's full of multicolored lightning. After it has passed over, each awakens in the morning and finds himself in a very lonely world–all the other people are gone. Streets are empty, stores are empty, their homes are empty.
But in the shadows they see creatures of nightmare–tall thin "aliens" with white eyes who are reaching out to touch them, liking the shade, shunning the light. When the "aliens" succeed in touching a protagonist, the result is a bruise that slowly spreads.
The three, Conner, Mitch, and Helen, eventually find each other, along with a teenager and a boy who doesn't speak. They are bewildered. Why is everything suddenly old? Pulling meat out of his refrigerator, Conner discovers it is rotten. His new car has rust the dent it got the day before.
After a lot of frightening encounters with the "aliens," the speechless boy disappears. They make their way to rural Indiana and are taken in by another wanderer in the empty world: Howard, a farmer who has been in this strange situation for years. He has figured out how to keep the "aliens" at bay: run floodlights all the time. The group gets gasoline to run Howard's generators by siphoning gas from cars in the abandoned towns nearby.
The three protagonists all have hallucinations involving their loved ones turning into "aliens," very unsettling. The teenager who is with them vanishes in a flash of light.
We get to know Conner, Mitch, and Helen well. They are what we Christians call non-believers, set in their beliefs.
This situation finally resolves. It's not a takeover of Earth by aliens. So what is it? In case you read the book, I'm not going to spoil it for you.
But I'll tell you that we learn that all three protagonists are carrying some pretty heavy baggage, loads of guilt connected with the deaths of loved ones. In the resolution, there is judgment. And there is grace for at least one of the protagonists.
Now, what do I think?
I think the characterizations are terrific. The plot grows out of who the three characters are, what they have done in their lives or not done, and how they are dealing with that. They are consistent and very believable. Dialogue is very well done.
Pawlik is also a master of the suspenseful detail, the scary situation that's getting worse and worse but isn't quite a disaster yet.
However, I am pondering this book and think that the "actual" cause of the empty city isn't all that believable. Why the rotten meat and the rusty car? And why the hallucinations in which the loved ones appear to be aliens? How can the character of Howard be both a human like Conner and an "alien"?
I think Pawlik may be wanting to scare nonbelievers into believing. Perhaps it works, I don't know.
But I am sure this well-crafted book will be enjoyed by lovers of Christian suspense.–Phyllis Wheeler
Check out what others on the Christian Science Fiction-Fantasy Blog Tour are saying:
Brandon Barr
Justin Boyer
Keanan Brand
Grace Bridges
Karri Compton
Amy Cruson
CSFF Blog Tour
Stacey Dale
D. G. D. Davidson
Jeff Draper
April Erwin
Karina Fabian
Alex Field
Beth Goddard
Todd Michael Greene
Ryan Heart
Christopher Hopper
Joleen Howell
Becky Jesse
Cris Jesse
Julie
Carol Keen
Krystine Kercher
Margaret
Rebecca LuElla Miller
Eve Nielsen
Nissa
John W. Otte
John Ottinger
Donita K. Paul
Epic Rat
Steve Rice
Crista Richey
Hanna Sandvig
Chawna Schroeder
James Somers
Speculative Faith
Rachel Starr Thomson
Robert Treskillard
Steve Trower
Fred Warren
Phyllis Wheeler