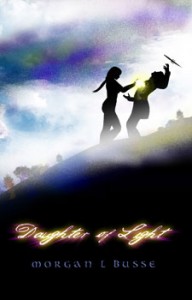 Daughter of Light by Morgan L. Busse
Published 2012 by Marcher Lord Press, 464 pages
Genre: Christian fantasy/supernatural, suitable for teens and adults
Rowen Mar discovers a strange white mark on her hand and loses her soldier father on the same day. Her father was her only friend and protector in her village of suspicious folk, who can't forget that Rowen is adopted–and that no one knows anything about her parentage. After a strange power in her flares up and terrifies both Rowen and a man who tries to attack her, she finds herself kicked out of the village. But somehow there's a place for her to go: she gets a job offer to be bodyguard to the royal family in the capital city.
Soon those that work with her, including the captain of the guard, find she's a healer. She realizes she's an Eldaran, sort of an angelic race that had been thought to die out on the earth. And not just any Eldaran, but one with the power to reveal the darkness in the human heart. It's a gift she doesn't want.
The captain of the guard realizes he's falling in love with her. But she's not a follower of the Word, as he is. What will he do?
And how about Caleb, a lord of the southern kingdom intending to conquer the north where Rowen lives? Caleb's got uncanny gifts in his chosen field: that of assassin. And he plans to strike close to Rowen.
What do I think?
This is a terrific book, one you just can't put down. I loved the characters and the well-crafted plot. It's Morgan Busse's first novel, but don't let that put you off–it contains a high level of sophistication and polish. I'm really looking forward to more. I hope I don't have to wait too long.
My review of Book 1, Daughter of Light
My review of Book 2, Son of Truth