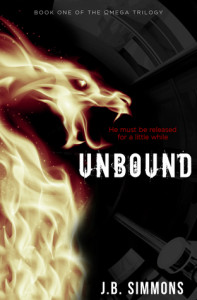 Unbound by J.B. Simmons (The Omega Trilogy Book 1)
Published by the author on Kindle
Genre: Young adult end times Christian fantasy
The year is 2066, and we are in Washington, DC. An unbelieving American Jewish teenager, Elijah Goldsmith, just wants to be a spy and wants to pursue the beautiful woman Naomi beside him in spy school. He also wants to ditch the strange dreams he keeps having, about a dragon that only he can see.
Naomi and her Christian friends think his dreams are prophetic. But Elijah thinks they are all weird.
I really enjoyed this book. The characters are well drawn and memorable. The book is well edited (often a problem with indie authors, but not this one). There's plenty of action, and the theology underneath seems reasonably sound to me.
But I did feel disappointed that the book ended when it did. Apparently the author is producing the book in installments, rather than telling a complete story with a character arc (where the main character goes through some kind of inner journey and comes out different). Unbound is like the first third of a well constructed novel, in my opinion.
So, I guess I'll just have to wait to read the rest! Hope I don't have to wait too long!