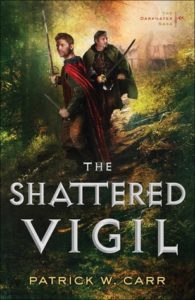 The Shattered Vigil by Patrick W. Carr, Book 2 of The Darkwater Saga
Published 2016 by Bethany House, 464 pages
Genre: Clean medieval fantasy, suitable for teens and up
This middle book of a trilogy, the Darkwater Saga, does a better job than many middle-of-trilogy books at keeping the reader's interest without letting things seem to get hopeless. It's got plenty of action, answers a couple of key questions for the reader, and leads well into the third and final novel, unpublished at the time of this writing.
Willet Dura, age 30 or so, has received a gift in a world where gifted people become the nobility. Gifts can be intentionally bestowed as the giver dies, but sometimes in chaotic situations they "go free" and land on someone new. That is what happened to Willet at the beginning of Book 1. With this "domere" gift he can, with a touch, see into the mind of another, an experience that is overwhelming. The domere gift also, he discovers in this book, conveys a life span that is many times that of normal.
One of the things he sometimes sees in the minds of others is a "vault," a construction put there by an unknown evil enemy. The person is always someone who has been lured to the Darkwater Forest by night. The mental vault opens up at night, and the person becomes a zombie-like killer.
These townspeople-turned-into-killers stand to wipe out Willet and the few other people with his gift, who call themselves the Vigil. Willet struggles to stay a step ahead of the killers, but no one can trust him, least of all himself. The problem? Willet too has a vault in his mind.
Highly recommended. Can't wait for the next book.