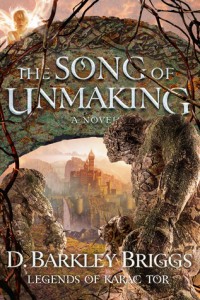 The Song of Unmaking by D. Barkley Briggs, Book 3 in the Legends of Karac Tor
Published 2011 by Living Ink Books
Genre: Christian fantasy, young adult and up
This, the third of five books in this Arthurian fantasy epic, focuses on one of the four brothers who have been transported from our world to another, Ewan.
Ewan's song of power, gifted to him in the new world of Karac Tor, is gone. He traded it to the self-centered fey (fairy) queen to save the lives of his friends. How he's depressed and defensive amid his gifted brothers.
But wait. Another gift, his ability to see the fey, hasn't left. As the world of Karac Tor shudders under the evil destruction plan of the witch, will Ewan's smaller gift make a difference? Or will he give up?
What do I think? I am amazed at how this epic continues to expand with more and more subplots, all braided together in a wonderful way. One involves the hapless dad of the family, who has managed to get himself into the fantasy world too and keeps trying to drag his four kids back home. Another subplot involves King Arthur, revived from a thousand years of sleep in this new place, forced to deal with the descendant of Lancelot living in Karac Tor under Arthur's curse.
This is a terrific book with a strong faith element. You and your kids will love it.