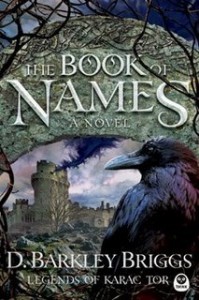 The Book of Names by D. Barkley Briggs, a review
Book 1 of Legends of Karac Tor, NavPress, 2008, 379 pages
Worldview: Christian.
The story starts in Missouri (my adopted home state) where a family of four boys grieves for their mom, who died of cancer. The kids are four boys, the oldest 15. They have just moved to the country north of St. Louis with their dad.
Hadyn and Ewan, the older two, are clearing a briar patch and discover an arched stone scrawled with Viking runes. Suddenly, four mysterious ravens drop messages at their feet and disappear through the arch. The messages, signed by "A," are four identical scrolls calling them to the Hidden Lands. Soon the two boys are following the ravens through the arch.
They find themselves in the land of Karac Tor, which is at war. Magic is commonplace here, including some magic familiar to our ears, such as fairy folk and Arthurian mystery, and other unfamiliar magic. The boys, who really just want to go home, are drawn into a massive conflict between godly monks and an evil sorceress who is turning all the teenagers in the land into zombies under her command. Hadyn and Ewan discover they have some special magic powers of their own in this land.
The monks are looking forward to the ninth and final coming of Aion, the son of the father God. But plenty of tribulation is happening first. Hadyn is captured by the sorceress and is on his way to becoming a mindless follower. Younger Ewan finds he has the courage to lead a rescue. Both brothers prove their loyalty and courage in a battle with the sorceress.
Then Hadyn and Ewan discover that their younger twin brothers have come through the portal too, leading into the next book, where the conflict is with the evil power behind the sorceress, the Deceiver himself.
The Book of Names is a keeper. It weaves action together with metaphorical descriptions. Characters are fully drawn and believable. The two boys are full of faults and fears at first, but they learn courage because they have to, facing the sorceress and her slaves. Briggs brings his fantasy world, Karac Tor (a place to build character, I get it!!) to life.
I did find this fantasy world to be rather dark. I wish it had more islands of light in it. Nevertheless, I am really looking forward to the next book, Corus the Champion, coming out in March 2009.–Phyllis Wheeler
If you want to buy this book, you can help pay the expenses of this blog by buying it through this link:
This review is part of the Christian Science Fiction and Fantasy blog tour. Check out other participants of the tour. We're all looking at the same book for the next three days.
Sally Apokedak
Brandon Barr
Keanan Brand
Rachel Briard
Valerie Comer
Frank Creed
Amy Cruson
CSFF Blog Tour
Stacey Dale
D. G. D. Davidson
Shane Deal
Jeff Draper
April Erwin
Karina Fabian
Andrea Graham
Todd Michael Greene
Timothy Hicks
Joleen Howell
Jason Isbell
Cris Jesse
Jason Joyner
Carol Keen
Magma
Rebecca LuElla Miller
Mirtika
Eve Nielsen
Nissa
Steve Rice
Crista Richey
Alice M. Roelke
Chawna Schroeder
James Somers
Rachel Starr Thomson
Steve Trower
Speculative Faith
Jason Waguespac
Phyllis Wheeler
Timothy Wise