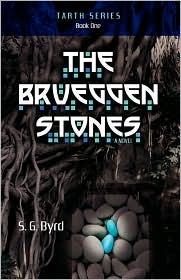 The Brueggen Stones by S. G. Byrd, Book 1 of the Tarth Series trilogy
Published 2007 by Oak Tara, 163 pages
Genre: Christian fantasy, middle grade
Lynn graduates from high school and takes a job in a Chicago department store. But she falls, hits her head on the sidewalk, and finds herself bumped into another world: Tarth, where the trees are blue and the water is green, and humans like herself struggle against a race of "root people" led by a sorcerer.
The humans care for Lynn as she catches every disease their children ever get, and she finally is able to start learning their language. A warrior, Chell, takes the time to teach her. Finally she starts to feel comfortable in this world.
Soon enough Lynn realizes why Keshua (Jesus) apparently has brought her to this world. There's a rhyme about victory over the sorcerer using some "brueggen stones" that only she, an outlander, could fulfill. But will she be able to do it? And how does she feel about this fellow Chell, anyway?
What do I think?
This book, basically self published, doesn't meet current conventional publisher requirements for the writer's craft in some ways. However, it does tell a good story and manages to keep the ball rolling, pages turning. It provides a good Christian witness for middle grade readers, too. I wouldn't dismiss it!