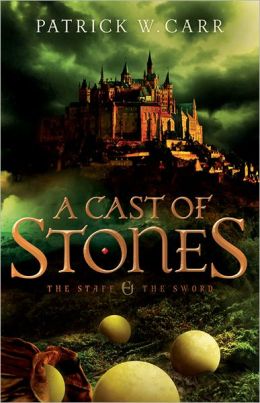 A Cast of Stones by Patrick W. Carr, Book One of The Staff and the Sword
Published 2013 by Bethany House, 428 pages
Genre: Christian Fantasy (medieval, epic)
Errol Stone is a piteous drunk, nineteen years old, a village orphan with no past and no future. When a church messenger sends him on an errand, he discovers he's a marked man. Assassins are shooting or hacking at him as he delivers the message to a hermit priest and then accompanies the priest and friends toward the capital city and the conclave that will soon choose a new king.
The priest and friends discover Errol has a rare talent. But they tell no one. So why do the assassins continue to hound him? And how do they know where he is, time and time again?
In a moment of sanctuary, Errol finds he has a choice: to continue as a drunk, or to take up the offer of a master with the quarter staff to teach him fighting skills. Will he or can he climb out of the pit he has dug for himself?
This book provides a great window into a new fantasy world. Well-drawn characters, a twisty plot, a faith element, and plenty of danger make this a terrific story. I heartily recommend it.
This is part of the Christian Science Fiction/Fantasy (CSFF) Blog Tour. Please take a moment to check out what others on the tour are saying about this book and its sequel. Read my review of the sequel.
Julie Bihn
Jennifer Bogart
Keanan Brand
Beckie Burnham
Jeff Chapman
Laure Covert
Pauline Creeden
Emma or Audrey Engel
April Erwin
Nikole Hahn
Jason Joyner
Carol Keen
Krystine Kercher
Shannon McDermott
Meagan @ Blooming with Books
Rebecca LuElla Miller
Writer Rani
Nathan Reimer
Chawna Schroeder
Jojo Sutis
Steve Trower
Phyllis Wheeler
Rachel Wyant
Author Website – http://patrickwcarr.com/