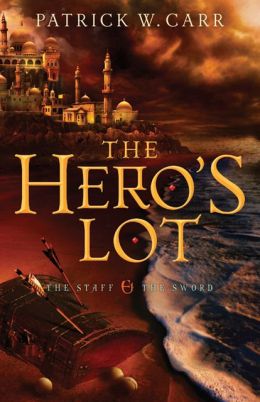 The Hero's Lot by Patrick W. Carr, Book 2 of The Staff and The Sword
Published 2013 by Bethany House, 427 pages
Genre: Christian medieval fantasy, epic scope
Errol Stone, town drunkard turned sober warrior, wonders what his place is in the wider world. At the capital city, the king has made him an earl. The king's gorgeous niece likes him. It looks like all will be well. Except for the fact that he has powerful enemies who wish him dead.
The old king has no heir. The first king's death two thousand years ago bought the kingdom protection from the unseen realms of spiritual darkness, but it's about to end. Nobles jockey for influence in the power vacuum soon to come, most not believing in spiritual matters at all. And there's Errol, who doesn't believe in spiritual matters either, having been tortured by an angry priest when he was a child.
A prophecy says Errol could either become the next king or he could die young. Soon he finds himself sent on a hopeless quest to an Godforsaken enemy kingdom. What good can come of it?
Compelling characters and plot twists make this a great read. Don't miss it! I can't wait for the next one in the series. Read my review of the first book in this series.
This post is part of the Christian Science Fiction/Fantasy Blog Tour. Please check out what others are saying about this book:
Julie Bihn
Jennifer Bogart
Keanan Brand
Beckie Burnham
Jeff Chapman
Laure Covert
Pauline Creeden
Emma or Audrey Engel
April Erwin
Nikole Hahn
Jason Joyner
Carol Keen
Krystine Kercher
Shannon McDermott
Meagan @ Blooming with Books
Rebecca LuElla Miller
Writer Rani
Nathan Reimer
Chawna Schroeder
Jojo Sutis
Steve Trower
Phyllis Wheeler
Rachel Wyant
Author Website – http://patrickwcarr.com/