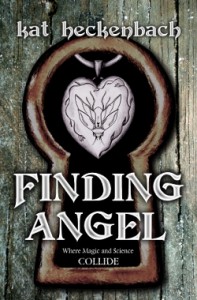 Finding Angel by Kat Heckenbach, Book 1 of the Toch Island Chronicles
Published 2011 by Splashdown Books, 294 pages
Genre: Fantasy with Christian worldview
Angel has no idea who her parents are or what her true name is. She lives in Florida with a foster family who found her wandering in the woods without her memory at the age of six. Now she's fourteen, and strange things are starting to happen.
She takes a shine to a young man, Gregor, a stranger to her. She realizes he has answers about who she is, and she decides to go with him back to his home. She finds this is her birthplace, Toch Island, a magical place near Ireland. She learns she has magical powers, like others from the island, and Gregor teaches her to use them.
Her parents are off searching for her in Germany, and they're also searching for the man who tried to kill her when she was six in order to steal her magic powers.
This man is still trying to kill her, the reader learns amid bizarre happenings on and near Gregor's farm. No one knows who the villain is, and he likes it that way.
Can Angel solve the riddle of a prophecy? Will she live to see her parents again? And will Angel learn who the would-be killer is?
This student-wizard tale is slow-moving in some spots, but provides a pleasing whodunit with some great plot twists and novel characters. I like the story world of the island, full of simple townsfolk, tame dog-like dragons, and dotty professors.
The faith element in this story lies in the deep background. Heckenbach, a Christian, writes for the secular market. In this tale, prophecy works. Things don't happen randomly, though the bad guy would have us believe so.