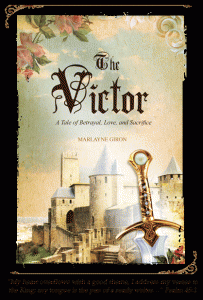 The Victor: A Tale of Betrayal, Love and Sacrifice
by Marlayne Giron
Published by Tate Publishing, 2009, 274 pages
Genre: Christian fantasy/romance
This book starts with the rebellion of the faithless steward Lucius against the good King Eloth, in the medieval-style kingdom of Ellioth. When the rebellion is thwarted, Eloth mercifully does not execute Lucius, but banishes him and his men instead.
What Lucius wanted was Eloth's sword of power, scheming that with the sword, he could exert vast authority. The person who stands to inherit the sword, Prince Joshua, is only a young boy.
Young Joshua is bethrothed to an eight-year-old step relative, Llyonesse. At this point the point of view shifts to these young people, and the story moves to a colony that Eloth sets up across the sea, for Joshua to rule when he is older. In the meantime, Llyonesse's father Ardon serves as steward.Eloth gives Ardon the sword, for now.
In the colony, industrious settlers work hard. But after a while evil Lucius shows up. Soon Ardon and his wife are dead, and Llyonesse is imprisoned in the castle. Lucius rules the colony with complete evil intent. The sword has buried itself in a stone; no one can touch it and live.
Llyonesse is lonely. She knows evil Lucius plans to marry her when she is old enough, in order to gain rightful possession of the sword–which will fry anyone who isn't of the royal line. As Eloth's step grand-daughter, Llyonesse is of the royal line, more or less.
But what of Joshua? Time goes by and the young people mature. Joshua seeks to take back his colony and his sword. Does Lucius marry the lovely young woman in his castle? You'll have to read the book to find out more!
What do I think?
I had a bit of difficulty getting into this story, because there isn't a character
to identify with for a while–Joshua and Llyonesse are not at the center of the action
at first.
But once over that hump, I enjoyed the book. It's a romance, definitely, and will
appeal to female readers more than male, I expect. I found a few copy-editing errors,
not enough to detract. The characters are idealized–the bad guy is very very bad, and the good guys are very very good and good-looking too. However, the plot is more complex than that. One of the "good" characters falls to temptation, and another falls seeking to please his wife.
There are underlying Biblical themes brought out by footnotes linking to Bible passages.
The book contains plenty of actual Bible quotes, worked into the story line. I like this; I
am happy to read the Bible and see it applied. So the work provides a very satisfying read for me, a Christian.–Phyllis Wheeler