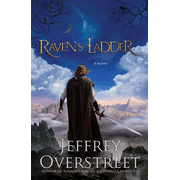 Raven's Ladder by Jeffrey Overstreet, a Review
Published by Waterbrook Press, 2009, 380 pages
Genre: Christian fantasy, suitable for teens and adults
I read the first book in this series, Auralia's Colors, but didn't have time to read the acclaimed second one, Cyndere's Midnight. This is the third in the series of four called The Auralia Thread. As I read Raven's Ladder, I missed out on various references to previous happenings. I do recommend you read these in order!
Raven is Cal-Raven, the young king of the refugee community of House Abascar. In the first book, Abascar's King Cal-Marcus made some terrible decisions that resulted in the loss of the community's lovely dwelling, most of their people, and the death of Cal-Marcus.
Now Cal-Raven is trying to lead his refugee people through a dangerous land to a new home as revealed to him by the Keeper, an Aslan figure. Problem is, they mostly don't trust his vision for a new home, or for a new order for them where previous class lines are erased and former nobles are expected to rub shoulders with former criminals. They remind me of the reluctant Israelites following Moses in the desert.
After a year of hiding out in a large cave, they take a sojourn in Egypt, so to speak: another of the four houses of the Expanse, Bel Amica, draws them in. In Bel Amica they find plenty of food and material wealth and are given jobs to earn their keep. However, it's a Godless place, where everyone is out for himself. Wicked seers are in charge in all but name. Treason is afoot. Will House Abascar be able to leave?
Another thread in the story involves more refugees from House Abascar who are prisoners of the beastmen of House Cent Regus. House Cent Regus at some point in the past was accursed, and its people became hideous beastmen, addicted to the elixir that binds them to beastliness, mindless in their aggressions.
The Keeper has sent a boy named Rescue to save them, but he needs Cal-Raven's help. Will these prisoners be set free?
What do I think?
This book is very lyrical, full of wonderful and original uses of words. It's also a great page-turner of a story, impossible to predict and full of illusions where things are not as they seem at first.
I was struck by the portrayal of godless House Bel Amica, where everyone is out for himself, people worship moon spirits, and occult seers are in charge in all but name. The materialism described sounds familiar. Could it be a version of America? What does this vision have to tell us about ourselves? Interesting thing to ponder.
Men who become beasts, with their exterior imitating their dark interior, is a theme as old as the folktale. Like other stories, this story includes a beast who is redeemed. Also good to ponder: where is the beast in me?
In short, this book engaged me on mental and emotional levels, and tickled my beauty appreciation sense. I suspect other lovers of fantasy will want to feast on this book too. –Phyllis Wheeler
My review of the first book:
https://christian-fantasy-book-reviews.com/2010/04/26/auralias-colors-by-jeffrey-overstreet-a-review/
My review of the fourth book:
https://christian-fantasy-book-reviews.com/2011/05/16/the-ale-boys-feast-by-jeffrey-overstreet-a-review/
This is Day Two of the CSFF Blog Tour on Raven's Ladder. Check out what others have to say about this book. Participants who had blogged about it as of this morning have a "+" by their name below.
+ Brandon Barr
Rachel Briard
Keanan Brand
+ Beckie Burnham
+ Melissa Carswell
Valerie Comer
CSFF Blog Tour
+ Stacey Dale
D. G. D. Davidson
+ Shane Deal
Jeff Draper
+ April Erwin
Ryan Heart
Becky Jesse
Cris Jesse
+ Jason Joyner
+ Julie
+ Krystine Kercher
Dawn King
+ Rebecca LuElla Miller
Nissa
+ John W. Otte
Donita K. Paul
Crista Richey
+ Chawna Schroeder
Andrea Schultz
+ James Somers
+ Robert Treskillard
Steve Trower
+ Fred Warren
+ Phyllis Wheeler
KM Wilsher