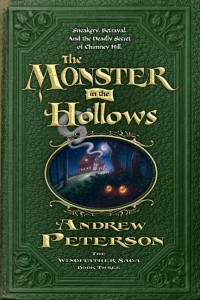 The Monster in the Hollows by Andrew Peterson
Book 3 of the 4-book Wingfeather Saga
Published 2011 by Rabbit Room Press, 348 pages
Genre: Christian fantasy, age 10 and up
Andrew Peterson's Wingfeather Saga tells the tale of the widow and three children of the King of Anniera, a blessed island kingdom overwhelmed nine years before by the dreaded fangs of Dang.
Read my review of the first book in the series. And the second book.
We learned in the second book that the fangs, which look like beast-humans, are actually recycled humans. In fact, the bad guys nearly succeeding in turning young Kalmar Wingfeather, the 11-year-old next king of Anniera, into a wolfish fang. He was rescued, but not in time. So he's not quite a fang, but not quite human either. He looks a lot like a wolf, in fact.
Now the Wingfeather family is fleeing for refuge across the ocean to the Green Hollows, original home of their mother. The folk of the Hollows live in fear of the neighboring fangs, but somehow have managed to stay free, thanks to a mechanical barrier in their harbor and natural barriers at the edges of their lands. Because Kalmar looks like a fang, the Wingfeathers don't get a welcome. But because the mother agrees to take any punishment that Kalmar earns alongside Kalmar, the Green Hollows grudgingly lets them stay.
In this hostile land, will Kalmar be able to behave himself, or will he push the tolerance of the Hollows folk too far? And what of the monster that lurks at their house?
What do I think?
The Wingfeather series is getting better and better with each book, in my opinion. The series with this book has moved its center from humor toward serious themes. The book is fast-paced and contains lovable characters and great plot twists. Heroic deeds make it an emotional read, too. And it's so cool to have such a flawed young hero as Kalmar. The book has a solid Christian foundation, a creator God who loves his people. You'll love this book. I did.
This post is part of the Christian Science Fiction/Fantasy (CSFF) blog tour. Please take some time and look at what others are saying about this same book, on Monday, Tuesday, and Wednesday.
Gillian Adams
Red Bissell
Jennifer Bogart
Thomas Clayton Booher
Beckie Burnham
CSFF Blog Tour
D. G. D. Davidson
Cynthia Dyer
Amber French
Nikole Hahn
Ryan Heart
Timothy Hicks
Jason Joyner
Julie
Carol Keen
Shannon McDermott
Rebecca LuElla Miller
Mirriam Neal
Eve Nielsen
Joan Nienhuis
Donita K. Paul
Sarah Sawyer
Chawna Schroeder
Tammy Shelnut
Kathleen Smith
Donna Swanson
Rachel Starr Thomson
Robert Treskillard
Fred Warren
Phyllis Wheeler
Nicole White
Rachel Wyant
Series Web site – http://www.WingfeatherSaga.com/
Author's Web site – http://www.andrew-peterson.com/