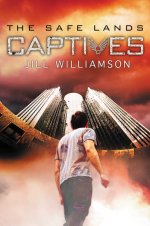 Captives by Jill Williamson, Book One of The Safe Lands series
Published 2013 by Zondervan, 381 pages
Genre: Dystopian suspense, young adult and up
Four months ago I posted a review of Jill Williamson's latest book, Captives. Today, for the CSFF blog tour, I am reflecting on the book, which I liked.
I don't know about you, but I am getting a little tired of dystopias. The settings are so antagonistic and dreary. But I was happy to read this one.
What I remember the most is that this story seems to mirror the biblical story of Daniel. Mason, the middle of three brothers, finds himself in hostile territory working for the good of his captive clan. It's a great tale, well told.
Williamson left a giant clue about this: a quote from the book of Daniel at the beginning. So I'll be interested to see where her tale leads us in future installments: to interpreting handwriting on the wall? to a lion's den?
This post is part of the Christian Science Fiction/Fantasy Blog tour. Check out my review from April, and be sure to check out comments from other blog tour members as well.
Julie Bihn
Thomas Fletcher Booher
Keanan Brand
Beckie Burnham
Morgan L. Busse
Jeff Chapman
Pauline Creeden
Emma or Audrey Engel
Victor Gentile
Timothy Hicks
Jason Joyner
Carol Keen
Shannon McDermott
Meagan @ Blooming with Books
Rebecca LuElla Miller
Joan Nienhuis
Asha Marie Pena
Nathan Reimer
Chawna Schroeder
Jojo Sutis
Jessica Thomas
Steve Trower
Phyllis Wheeler
Rachel Wyant

Author's website – http://www.jillwilliamson.com/