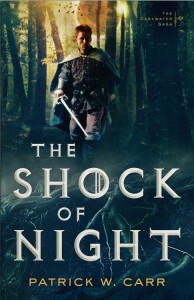 The Shock of Night by Patrick W. Carr, Book 1 of The Darkwater Saga
Published 2015 by Bethany House, 455 pages
Genre: Clean medieval fantasy, suitable for teens and up
Willet Dura, age 30 or so, is a crime investigator for the king. It's a world where the gifted are an elite. Gifts of uncanny physical strength, music, mental ability, and so on can be passed down in families–or can "go rogue" when the dying individual fails to pass it on properly.
Such a rogue gift comes to Willet when he investigates a criminal attack on a stranger. This man grabs Willet's head and speaks in an unknown tongue before dying. Soon Willet discovers he can see into the minds of people just by touching them. It's a gift he doesn't particularly want.
The five others with the gift–The Vigil–don't want him, either. They like nice, orderly gift succession to an apprentice. Not only that, they suspect Willet of being an unwitting stooge for the dark forces coming out of Darkwater Forest, because Willet spent a night in the enchanted forest. No one has ever returned from there without hidden corruption. Rather than killing him, they decide to let him do himself in through his natural bumbling recklessness.
He's making plenty of mistakes, and obstacles keep coming up to his planned marriage to the woman he loves. It seems she may never be his. How can he change that, if he lives to see the day?
How can Willet sort out the gift he doesn't want, the fellow gifted who don't want him, and find an implacable enemy who kills in the dark?
What do I think?
Carr does a great job of building his characters, his world, and a strong plot. He's a wonderful storyteller, as I have come to expect from reading his other trilogy, The Staff and Sword (see links below).
Because of the nature of the major conflict at the heart of this book — disagreement over how to use gifts — it isn't as high-action as some others of Carr's books. That wasn't a problem for me, but it could be for some.
The Christian element to this story is in the background, with little mention of personal faith. I think this is a very appropriate way to reach out to the current secular culture–by including a few shining moments that give goosebumps and may cause a non-Christian to wonder what he or she is missing. In this book, there are two characters who might be angels. Cool. I love angels.
Members of the Vigil credit Aer, or God, for bestowing the gift where he wants. But they also think there's room for accident in the bestowal, so they think Willet isn't supposed to have it. This makes me chuckle. How human they are!
It's a very good story that serves as a platform for further challenges for Willet, and I look forward to reading them. Check out what others are saying on the same blog tour: see links below.
Good news! There's a free prequel novella for this series, and here's the link: http://www.amazon.com/gp/product/B0112WVVBQ
See my previous reviews of his work: Staff and Sword Book 1, Staff and Sword Book 2, Staff and Sword Book 3
Author website: http://www.patrickwcarr.com/
And, the other blogger links. Look at what others on the Christian Science-Fiction/Fantasy (CSFF) Blog Tour are saying:
In conjunction with the blog tour, I received a free copy from the publisher.