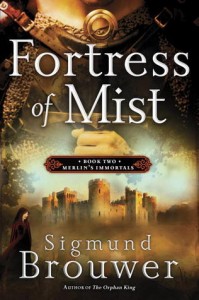 Fortress of Mist by Sigmund Brouwer, Book Two of Merlin's Immortals
Published 2013 by Waterbrook Press, 217 pages
Genre: Middle grade/young adult historical fiction with Arthurian tint and steampunk flavor
In the first book in the series, we watched the orphan Thomas regain his father's throne from a usurper using his wits and using science from ancient manuals he inherited. Now in the second book, we continue to see Thomas' pain at not understanding the intrigue swirling around him. Forces for good and forces for evil vie for Thomas's allegiance. He had enough of an education from his mother, who died when he was ten, to be able to turn from darkness when it presents itself. But he can't get anyone to explain to him what is actually going on. The good guys fear Thomas is a druid spy.
Thomas longs to trust the Earl of York, whose domain contains Thomas's kingdom. But the kind earl wears a ring with a druid symbol. Clearly he can't be trusted. Or can he? And how about the two mysterious beautiful women, Isabelle and Katherine, both of whom are clearly lying?
What do I think? This book contains delicious hints of Merlin, who allegedly built the fortress that Thomas now rules. The scientific explanations of what the common people believe to be magic lend a steampunk flavor, though of course this setting is A.D. 1312, pre-steampunk. What fun!
Our hero Thomas should be a hit with teen boys. The book has a bit of romance, too, enhancing its appeal to girls. Characterization is strong, the plot is highly twisty, and all in all I wish the book was a bit longer with more description. However, I suspect that the intended target audience, reluctant readers, wish otherwise. Good job, Mr. Brouwer!
Here's my review of the previous book.
This post is part of the Christian Science Fiction/Fantasy Blog Tour. Check out what the others are saying.
Author Website – http://www.sigmundbrouwer.com/
*Participants' links
Gillian Adams
Julie Bihn
Thomas Fletcher Booher
Beckie Burnham
Janey DeMeo
Theresa Dunlap
Victor Gentile
Nikole Hahn
Jeremy Harder
Ryan Heart
Janeen Ippolito
Becky Jesse
Jason Joyner
Carol Keen
Emileigh Latham
Rebekah Loper
Shannon McDermott
Meagan @ Blooming with Books
Megan @ Hardcover Feedback
Rebecca LuElla Miller
Anna Mittower
Eve Nielsen
Nathan Reimer
James Somers
Steve Trower
Phyllis Wheeler