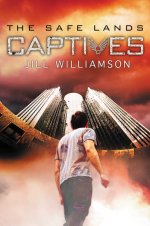 Captives by Jill Williamson, Book One of The Safe Lands series, a review
Published 2013 by Zondervan, 381 pages
Genre: Dystopian suspense, young adult and up
Three brothers live in a tenuous settlement that shares a Colorado valley with a huge walled city called the Safe Lands. The year is 2088, and the Thin Plague has wiped out the population of the United States except for isolated pockets close to clean water sources. It's a hard life for the brothers and their kin, surviving off the land and off what they can glean from the empty Denver City not far away.
Omar, a sensitive boy mocked and bullied by their father, decides to make friends with the people who live in the Safe Lands, although others warn him that those who go in never come out. Maybe there he will feel like he belongs. It turns out the Safe Lands desperately needs people like Omar and his clan, people uninfected by the Thin Plague who can help the Safe Lands repopulate. Omar decides his family will like the apparently easy life in the Safe Lands, and he arranges to have them taken there.
Levi, the oldest brother, is away on a trip when the Safe Landers arrive, and he returns to a village empty of life. As son of the village elder, he is elder now. He must go in to rescue the survivors, including his fiancee Jemma. But will he be able to control his temper?
Mason, the middle brother, is a gentle vegetarian who finds himself in a position of responsibility in the Safe Lands. He's a medic, with access to the others from his village from time to time. Will he be able to make a difference for them? And can he begin to figure out what how to defeat the Thin Plague that is stunting the lives and eliminating the fertility of the Safe Landers?
Jill Williamson has delivered another impressive tale with believable, detailed characters and a strong plot line. Dystopia is a new genre for her, and she does very well in it. Her vision of 2088 Colorado has some similarities to the authoritarian world of the Hunger Games, of course, and a lot of differences too. The faith element is present but not center stage, and so I expect non-Christians will be comfortable reading this book (and hopefully thinking a bit about the faith part). There's a clue at the very beginning: a verse from the book of Daniel. Is Mason a recasting of the Biblical Daniel, a vegetarian living in a hostile kingdom and working for the good of his people?
I'm looking forward to reading the next book in the series!