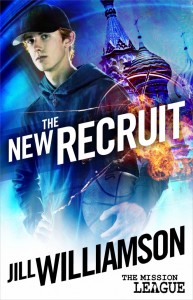 The New Recruit by Jill Williamson, Book 1 of the Mission League series
Published 2012 by Marcher Lord Press
Genre: young adult Christian suspense, with a touch of the supernatural
Fifteen-year-old Spencer Garmond just wants to play basketball. He's got a reckless streak, which gets him into trouble with the local bullies pretty often, but basically he's not out looking for it. Turns out trouble is looking for him, though.
Suddenly he finds himself under pressure to join a secret missionary spy organization. His grandmother's behind it–if he doesn't cooperate, she'll send him to military school: no more basketball. So he joins. The spies in training meet before and after school, getting ready for a summer field trip abroad. This summer, they're going to Moscow. And they're a bunch of goody-goodys, in Spencer's opinion.
Spencer starts having visions. They seem so real. Could they be real? The missionary spies tell him he has the gift of discernment. What does that mean? Will the terrifying events he's foreseeing happen to him? to others? Who is this chilling woman named Anya? What's with the gang of homeless teenage boys? And how's a nonbeliever to handle all of this?
What do I think?
Spencer's an endearing and memorable character; I am guessing that Jill Williamson has pretty well nailed the way teenage boys think and feel. The other characters are memorable as well–she does a great job. I found the plot unpredictable, the conflict something I could relate to. I really enjoyed reading this book, and am looking forward to the next four books in the series. If you have teens wanting something to read, I'd certainly recommend it. Plus, they'll enjoy her goofy scavenger hunt, see below.
Author's website: www.jillwilliamson.com
Website for The Mission League Series: http://themissionleague.com/
Enter the "go undercover scavenger hunt," a zany challenge from the author for those interested in winning a $100 gift certificate to Barnes and Noble.
Jill Williamson is an author of all things weird. She grew up in Alaska with no electricity, an outhouse, and a lot of mosquitoes. Her Blood of Kings trilogy won two Christy Awards, and she recently released Replication, a science fiction teen novel from Zonderkidz. Jill lives in Oregon with her husband and two children and a whole lot of deer.