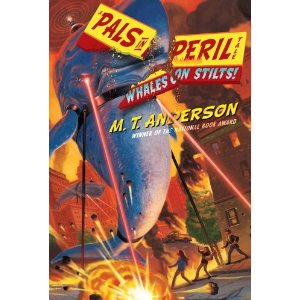 Whales on Stilts by M.T. Anderson
Published 2005 by Beach Lane Books, 188 pages
Genre: Middle grade "urban" fantasy
This book was the first in the popular Pals in Peril series and got a lot of awards, including the Publisher's Weekly Best Children's Book. My daughter loves these books and wanted me to read this one.
Lily accompanies her father to work for Career Day, sees his workplace in an abandoned warehouse (complete with secret laboratory), and soon suspects that her father's working for someone who wants to take over the world. Her dad, though, is oblivious to all the clues around him. She enlists her friend Katie Mulligan, herself the heroine of a book series, and Jasper Dash, a techno-savvy hero of a book series from the 1950's. But this is Lily's book. She's the one who does most of the thinking and figuring out.
It takes some thinking and figuring out to connect the dots on the wild and wacky stuff that's going on. All the adults are oblivious to the danger posed by a bad guy with a grudge against the world, who mysteriously dumps buckets of brine on himself and wears a burlap sack over his head all the time. Jasper earnestly tries to come to the rescue with vintage machines, such as the photocopier powered by a mule, and the rocket car that might go as fast as 35 miles an hour.
Will there be an invasion of whales on stilts? If so, will Lily and friends be able to thwart the invasion?
What do I think? I thought this book was very silly and fun, and even had some suspenseful parts. The characters are well-drawn, and I enjoyed that. Jasper, the gadget guy who's a flop, is particularly funny. The book is not written by a Christian, though. There was just one jab at Christianity in it, which wise parents might want to discuss with their little readers. It's on page 79, where Katie is about to be left at home alone by parents who clearly aren't worried about any threats. Katie's mother says, "I made you some Rice Krispies Treats, and there's garlic on the door, and you have your crucifix and your ankh, right?"
There were no other stumbling blocks in that book. But the first chapter of the next book in the series is included. In it, Katie says "Oh, lordy," while thinking about something bad that might happen. So the writer sprinkles in a few comments that are offensive to Christians. You could discuss that with your young readers, too.