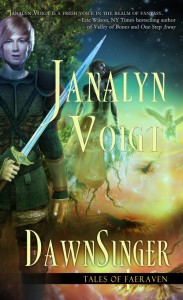 Dawnsinger by Janalyn Voigt
Published 2012 by Harbourlight Books, 316 pages
Genre: Christian fantasy fiction, suitable for teens and adults
Shae's family loves her and protects her (especially her brother Kai), but it has never occurred to Shae to wonder why she doesn't resemble them. She gets a strange summons to attend the dying queen of the realm, someone she has met on a few occasions, and she makes a journey to the royal castle with Kai that turns out to be full of dangers. Once there, she finds a court filled with intrigue and murderous plans. Not the least of the dangers is a mysterious court musician who exerts a magnetic pull on her.
There's a prophecy, she learns, that only she can fulfill. As she sets off on a dangerous journey with Kai and other companions, she only knows that she will meet plenty of opposition. Will she be up to the task?
What do I think?
This book has a good plot, which brought Shae's story to a good stopping point while leaving me wondering what will happen in the next book. I enjoyed the characters as well. I'll be interested to read the next book in the story when it comes out.