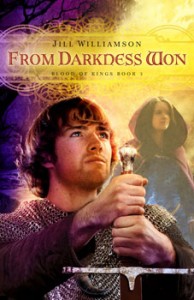 From Darkness Won, Blood of Kings Book 3 of 3, by Jill Williamson
Published 2011 by Marcher Lord Press, 661 pages
To Darkness Fled, Blood of Kings Book 2 of 3, by Jill Williamson
Published 2010 by Marcher Lord Press, 680 pages
By Darkness Hid, Blood of Kings Book 1 of 3, by Jill Williamson
Published 2009 by Marcher Lord Press, 490 pages
Genre: Christian fantasy, young adult and adult
The third and final book in the Blood of Kings series wraps up the many strands in this sprawling tale. The first book in the series, Christy Award winner By Darkness Hid, introduced us to the main characters, Achan and Vrell. Achan lives in a society that seriously mistreats its orphans, calling them "strays." But Achan at age 16 isn't just any stray. He discovers he has an amazing gift–bloodvoicing, the ability to speak to others using only his mind. His gift is so vast that others who have the gift are in awe.
Vrell is a young noblewoman fleeing a detested suitor dressed as a boy. She too has this bloodvoicing gift, which seems to run in some of the noble families only. She gets herself into all kinds of scrapes and eventually meets and helps Achan.
The powers controlling the realm of Er'Rets are evil sorcerers. The king was murdered a while back and his infant son lost. Pretenders are running most of the kingdom. But there's a remnant of good guys who look for the return of the rightful king. And eventually they find him. He's Achan, the lost son, switched at age 3 with another child.
Can they put him on the throne? The forces of evil seem too powerful. In fact, half the kingdom lies in total inky darkness, like the deepest night. And the darkness is spreading. Lord Nathak is clearly one of the bad guys, but he seems conflicted. He knowingly sheltered the rightful king as a child in his stronghold but allowed the boy to be severely mistreated.
Why is Nathak's face half withered? And will Arman, the Lord of Hosts, rescue the kingdom from darkness and restore the rightful heir? What is Vrell's role in all this? Achan, when he figures out she's a girl, falls in love with her. Does she love him? And in the war, should she sit aside as a noblewoman, or take up her masquerade as a boy and fight?
The tale winds across three fat books, all of them a delight to read. Williamson draws the reader right into a character's head and emotions in a very compelling way, and convincingly describes the world she has created. I can't recommend this series enough. It's my favorite, of all the tales I have read since starting the Christian Fantasy Review three years ago.
See my review of By Darkness Hid: https://christian-fantasy-book-reviews.com/2010/05/17/by-darkness-hid-by-jill-williamson-a-review/